We may have the largest selection of carpet, but we also carry a myriad of other high-quality flooring materials! From natural hardwoods to inexpensive but gorgeous laminates – we have what you're looking for. We specialize in installing Hardwood Flooring, Luxury Vinyl Flooring (LVT), Rigid Core Flooring, Vinyl Sheet Flooring, Laminate, and Tile.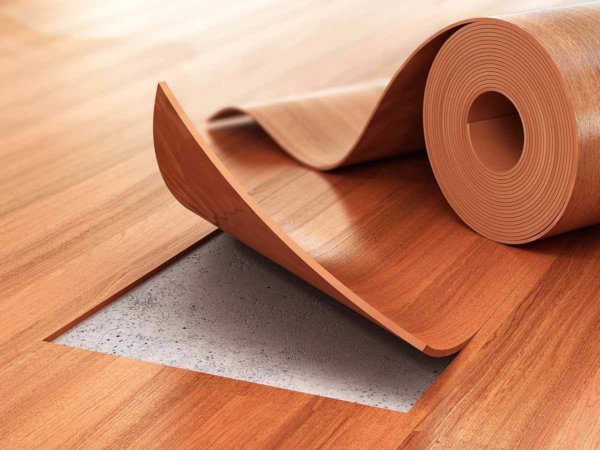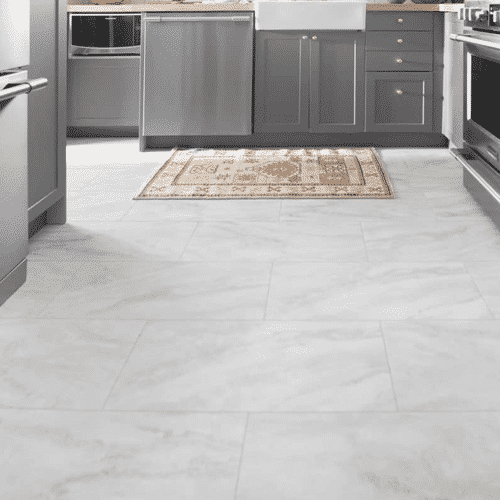 Vinyl flooring also known as luxury vinyl tile (LVT) is quickly becoming a popular option for many people. Its easy installation, versatility and budget friendly options are just a few of the reasons behind its spike in popularity.
This type of flooring comes in wood and stone styles that are designed to resist moisture and everyday wear and tear in the most active homes.
Vinyl composite tiles are also used commercially because of its extreme durability. Due to their unique installation process, vinyl composite tile can be easily maintained and even have sections replaced independently.
Where can luxury vinyl be installed?
LVT is the perfect type of flooring for bathrooms, kitchens, basements and laundry rooms, but it can be installed anywhere in your home. There are even options that allow you to easily install over subfloors with minor irregularities. Popular option for commercial businesses as well.
How durable is this type of flooring?
Luxury vinyl is very durable and easy to clean, with an impermeable barrier to water our vinyl collection of floors won't swell, buckle or lose integrity providing you with longevity you desire! While all LVT products are scratch, stain and wear resistant, you can choose between different performance levels.
What styles are available with luxury vinyl flooring?
The kind of trends you might see in hardwood planks or natural stone tiles can often be found in luxury vinyl. Vinyl can come in a nearly endless amount of patterns, as well as installation types such as sheets or interlocking tiles. So many options means it's easy to find a floor that does what you need it to do, but is also really stylish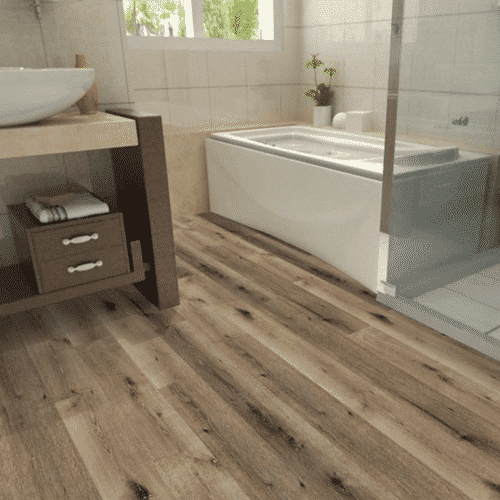 Its extreme durability and the award-winning designs that are the hallmarks of rigid core flooring. It has a layered structure that features the best attributes of multiple flooring types, including luxury vinyl and laminate but with greater dent resistance and design realism.
Where can rigid core flooring be installed?
It's durability can't be beat even for the highest traffic and most moisture-prone rooms in your home. Enjoy this flooring type in any room with its beautiful and realistic hardwood designs to elevate the style of your main living spaces and bedrooms.
How durable is this type of flooring?
Rigid core flooring, unlike many other types of flooring, offers the ultimate dent resistance against things like dropped objects and high heels. It's also 100% waterproof, so when exposed to water the planks will not swell, buckle or lose integrity.
What kinds of styles are available with rigid core flooring?
Our award-winning designs include highly realistic visuals and textures that resemble real natural hardwood. Capture the look of traditional wood floors or trending rustic, reclaimed and brushed wood looks.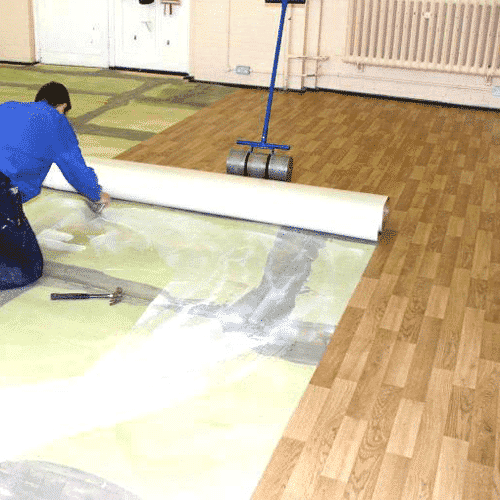 Customized to meet your budget and lifestyle needs, we offer a range of options and styles for your home. Vinyl sheet is a resilient type of flooring that comes in a large roll, cut to size.
Where can vinyl sheet flooring be installed?
Vinyl sheet is durable enough to be installed anywhere in the home, and its single solid surface makes it a good choice for moisture-prone kitchens and baths.
How durable is this type of flooring?
We offer multiple performance levels for vinyl sheet, with different durability and comfort features all with superior scratch, scuff and stain resistance.
What vinyl sheet flooring styles can I choose from?
Cutting-edge print technology produces realistic limestone, sandstone, slate, traditional hardwood and exotic hardwood looks as an alternative flooring type for homeowners who want the natural look for less. Alternative styles and patterned designs like black-and-white checkerboard are also available, the possibilities for your home are endless.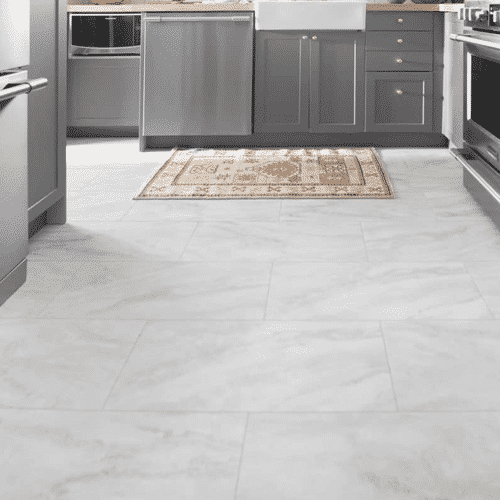 The installation of laminate flooring is incredibly fast and easy, with this floor type you can get the look and feel of exotic wood or high-end stone on a practical budget.
Where can laminate flooring be installed?
Laminate flooring has by far become one of the fastest growing flooring materials on the market. Best suited for, dining rooms, living rooms, family rooms and bedrooms.
How durable is this type of flooring?
Laminate is designed to withstand everyday wear from an active household. It has a layered construction that includes a hardened wear layer to protect from scratches, surface spills, stains and fading, and an inner core that adds moisture resistance and stability.
What laminate flooring styles can I choose from?
Whatever your design vision, it will be easy to achieve with laminate. Laminate comes in many designs including a large variety of wood grain, rustic, weathered, hand-scraped and reclaimed looks. Stone looks range from Spanish-style pavers to slate tile.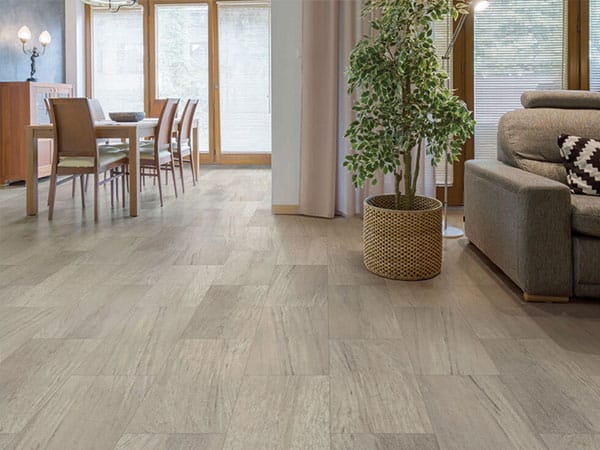 Where can hardwood be installed? 

Hardwood floors are a timeless choice that can bring elegance or modern style to any space, and installed in most rooms of your home. However, we do not recommend it for bathrooms, laundry rooms or any other areas that could be subject to moisture or high humidity. Engineered wood is a great alternative option for basement installations or over concrete slab or radiant heating systems.
SOLID HARDWOOD
ENGINEERED HARDWOOD

How durable is this type of flooring?
This flooring type offers the long-lasting performance that floor shoppers value. However, even highly durable hardwood can show wear over time. The amount of traffic, thickness of wood and quality of finish will affect how well a particular hardwood floor holds up against scratches, dents and stains.
What kinds of styles can I get with hardwood?
Unlike other flooring materials, installing hardwood floors can actually increase the value of your home! We offer an incredible selection of hardwood flooring styles, from elegant to rustic. Our collections feature a full range of natural colors, finishing effects, textures and board widths. Whatever your style, you're sure to find a look you'll love.
Either option you chose; hardwood is coveted for its natural, timeless beauty and lasting durability. Hardwood planks are 100% solid hardwood, and engineered wood has a stable, layered construction with a wood top and backing.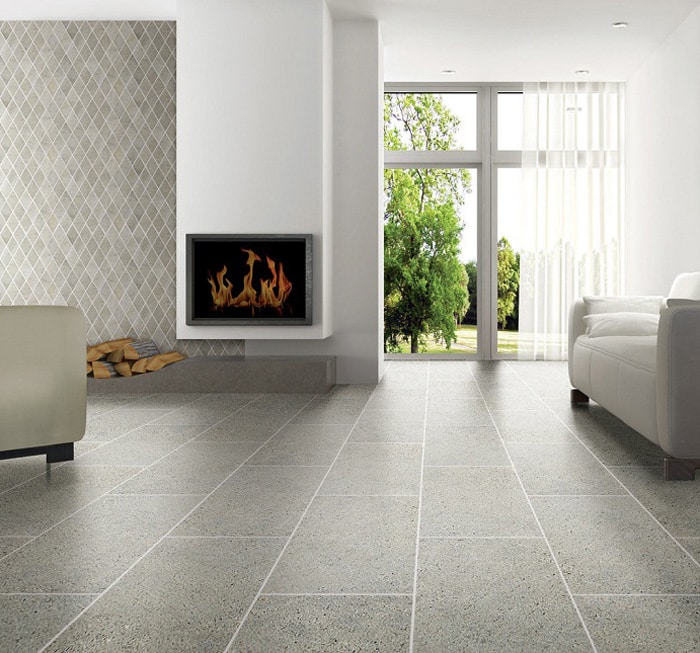 Tile flooring is one of the most durable, long lasting, and easily maintained materials; a great choice for your home. Each type of tile flooring has its own defining characteristics.
Where can tile flooring be installed?
Tile flooring is suitable for almost any room in your home. You'll be adding value to your home while getting a durable floor that will last for years to come.
How durable is this type of flooring?
It is important to have a floor that is durable enough to take whatever your family throws at it.Whether it's an entryway, a mudroom or a busy family kitchen, tile can handle it.
What tile flooring styles can I choose from?
The two most commonly used types of tile flooring are ceramic and natural stone. Tiles come in a plethora of styles including patters, textures, sheen, and even weight. Installation of tile floors may take longer than other materials, but the results are absolutely worth it!